Recently I saw an interesting image on twitter from @darrencauthon.  The image was a television with an alleged FBI notice notifying the individual that their new smart TV had "suspicious files" and that they were being penalized $500 before they could use their TV again.  All of this is accompanied by legal jargon meant to frighten the user into believing the hoax.  The bottom of the note is even signed by FBI Director James Comey himself apparently.  This is your classic example of ransomware and I immediately had a thought on what may cause this issue.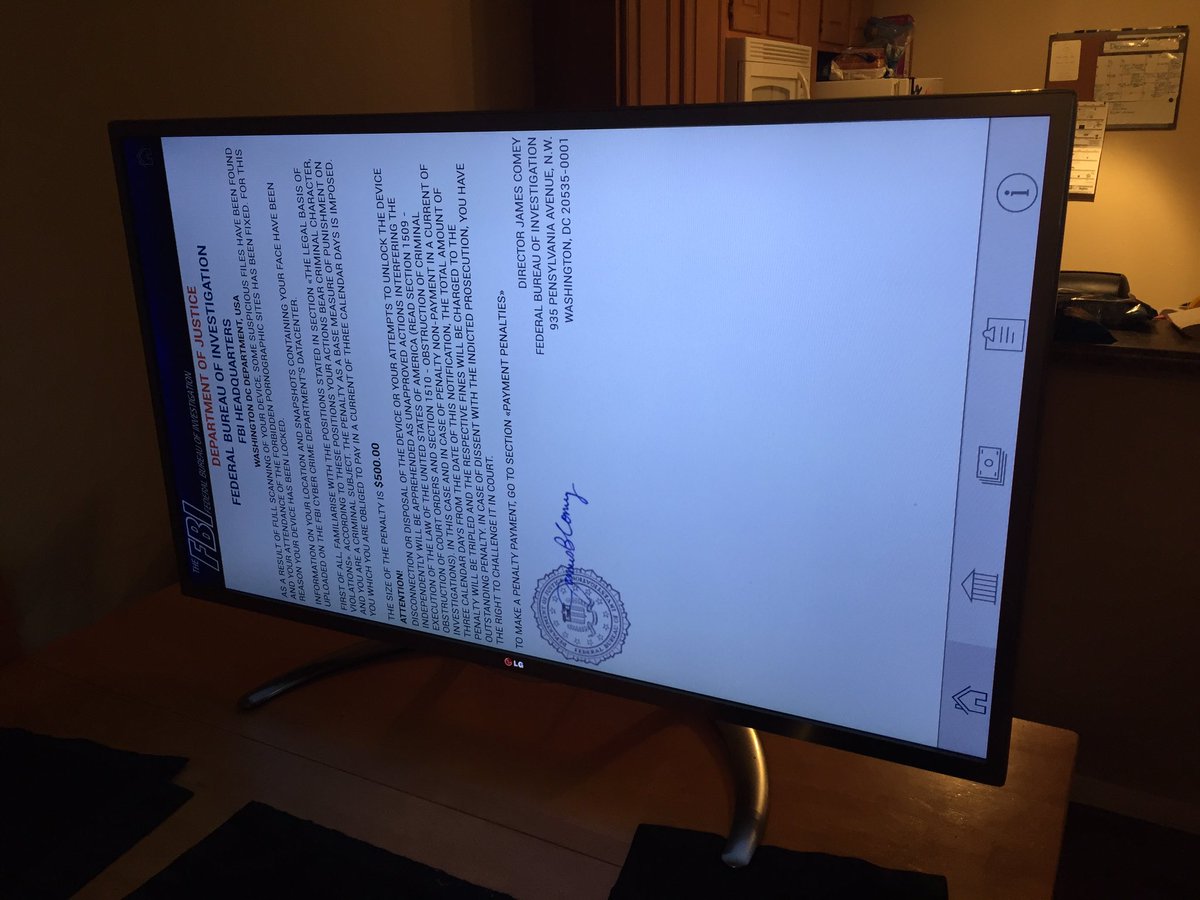 The text reads as follows:
As a result of full scanning of your device, some suspicious files have been found and your attendance of the forbidden pornographic sites has been fixed.  For this reason your device has been locked.
Information on your location and snapshots containing your face have been uploaded on the FBI cyber crime departments datacenter.
First of all, familiarize with the positions stated in section <<The legal basis of violations>>. According to these positions our actions bear criminal character, and you are a criminal subject.  The penalty as a base measure of punishment on you which you are obliged to pay in a current of three calendar days is imposed.
The size of the payment is $500.00
ATTENTION!
Disconnection or disposal of the device or your attempts to unlock the device independently will be apprehended as unapproved actions interfering the execution of the law of the united states of America (Read as section 1509 – investigations).  In this case and in case of penalty non-payment in a current of three calendar days from the date of this notification, the total amount of penalty will be tripled and the respective fines will be charged to the outstanding penalty. In case of dissent with the indicted prosecution, you have the right to challenge it in court.
To make a penalty payment, go to section <<Payment penalties>>
With the era of smart and connected devices it is more important than ever to make sure the devices are protected from external tampering by hackers.  The above example shows that the television was probably an easy target for the ransomware because, when it was manufactured and its operating system installed, there probably were minimal protections established.  This most likely stems from the issue that it is a "smart TV" but in reality, it is computer specialized to perform as a television.
All IoT devices are small, specialized computers and should have malware and other security protections installed just like a standard desktop computer would.  This requires a shift in perspective on the parts of all of us.  When your business gets involved with IoT devices, either selling or using them in your office, be sure to check how it is protected from outside threats and act accordingly.